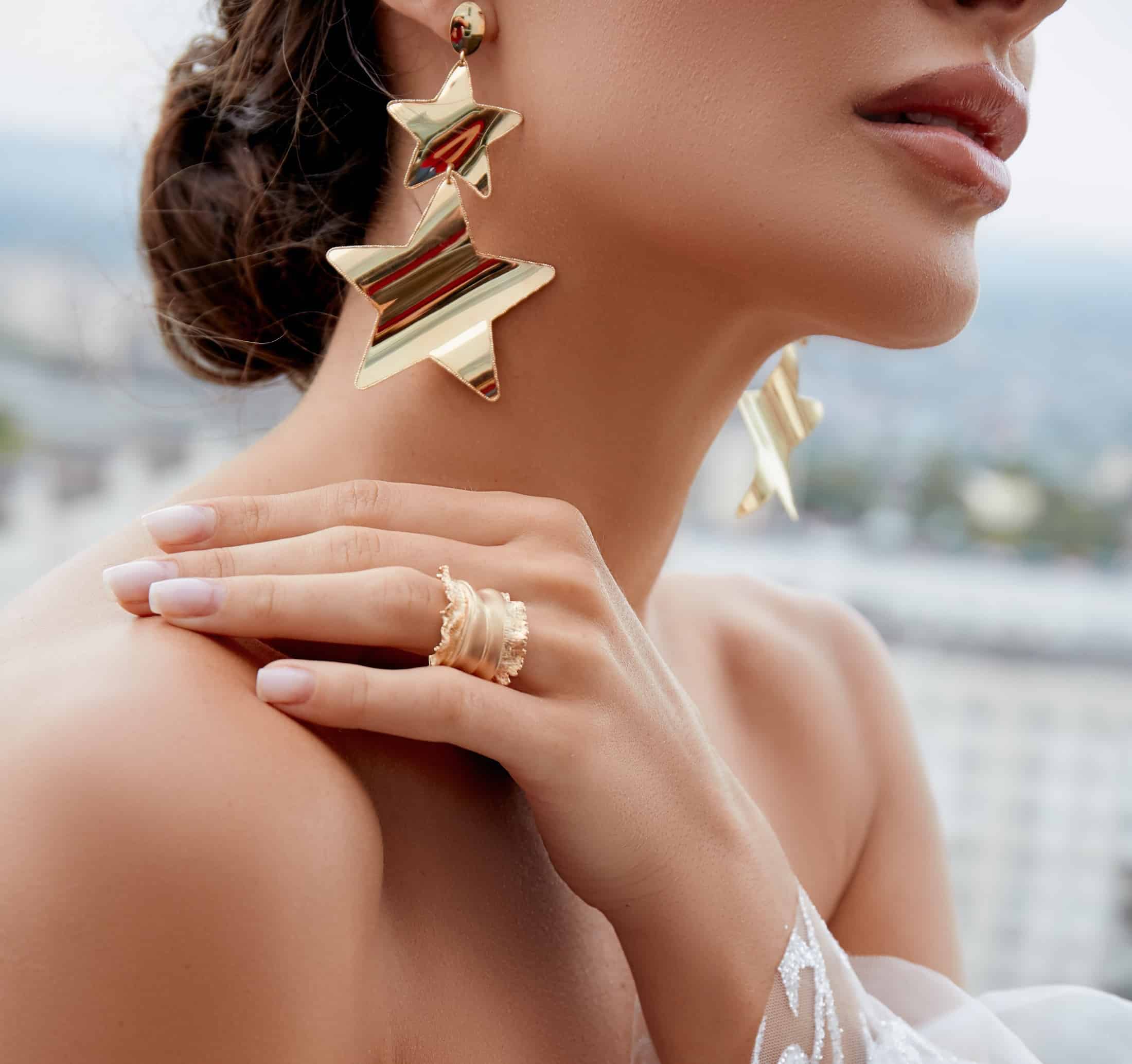 Earrings are the type of jewelry we reach for most often. We suggest how to choose them to match our type of beauty and face shape.
Often we do not think about how the shape of earrings affects the appearance of our face – we usually focus on aesthetic matters, reaching only for gold or silver earrings. While the color and material from which the earrings are made is an equally important issue, it is also worth paying attention to their shape. Knowing the basic rules of matching earrings to the shape of your face will save you the trouble and time of searching for the perfect ones!
Round face
If you have a round face, which is relatively wide and characterized by prominent cheeks and jaw, the most appropriate choice will be hanging earrings. The best choice are long, vertical earrings. The longer the better. In stores you can find even up to shoulder length. Thanks to hanging earrings our face will be optically longer and will seem slimmer. Round face also likes geometric shapes, like triangles or squares. We should avoid disc-shaped and circle earrings.
Triangular Face
The triangular face (also known as the heart-shaped face) is characterized by a wide forehead, prominent cheekbones and a narrowing chin. The lower half of the face is therefore narrower than the upper half. The right earrings for this shape are those, which will balance this proportion and make the lower half of the face look optically more prominent. Short, large earrings, for example those with a large stone, will be a good choice. Hanging earrings will also work well, but pay attention to their shape. Instead of reaching for thin, long earrings, choose those whose shape widens at the bottom
Square Face
With a square face our features are usually very distinct: we have a broad forehead and chin, our cheekbones are usually quite prominent and so is our jaw. When choosing earrings we should be guided by the fact that we want to give our face a little more streamlined, oval shape – in contrast to strong facial features, jewelry should give it delicacy. This time, in contrast to the round face, geometric shapes will not work. We should avoid sharp edges and angles and opt for more rounded shapes. Great choice will be circle-shaped earrings, as well as those more unusual – resembling teardrops or flowers.
Oval face
High forehead, slightly protruding chin, unobtrusive jaw and chin – these features are typical for an oval face. Its biggest advantage is the regularity of features, which allows you to choose earrings in any shape. However, if we want to optically compensate for the large forehead, we should avoid excessively elongated face. Long, hanging earrings should be avoided – they will make the face look even more drawn, which will attract attention
Narrow face
The characteristics of a narrow face (also known as a rectangular face) combine those of a square and oval face. It is drawn, the forehead can be high, but unlike an oval face, the jaw and chin are strongly defined. As with the square face, a good choice will be rounded earrings, which will give the face a delicate look. Avoid long earrings – they will further elongate an already drawn face
Read also: Wear XXL size clips this summer
Main photo: Kristina Polianskaia/ pexels.com