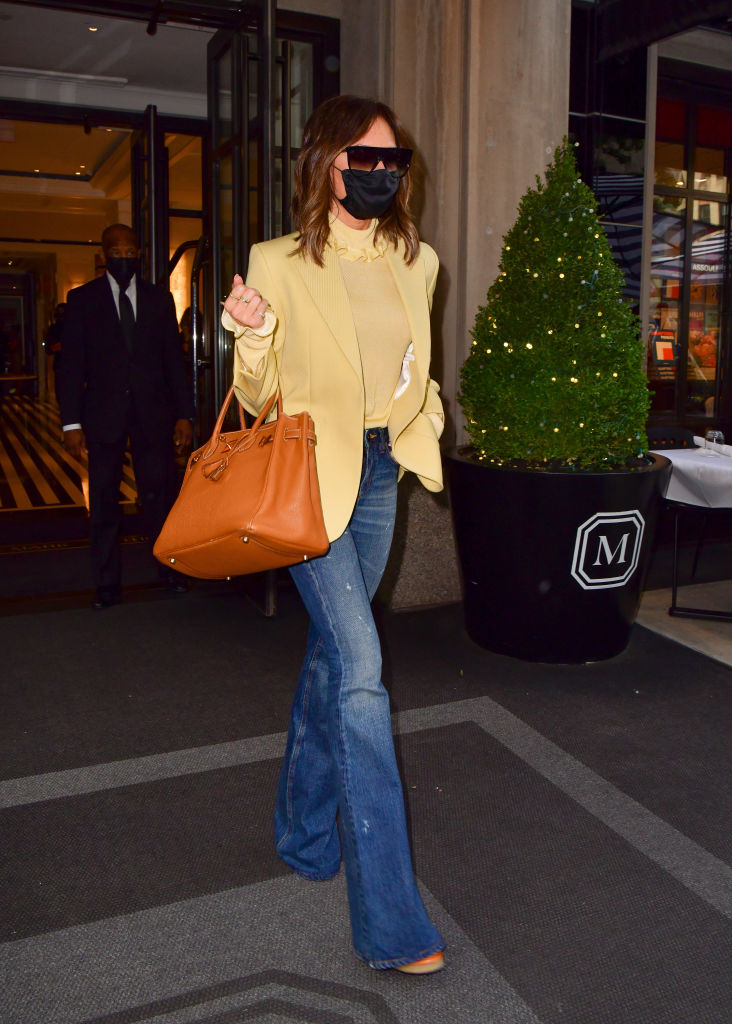 Coat, sunglasses, stilettos, midi dresses, and men's shirts – get the most from Victoria Beckham's styling, which always looks impeccable and stunning.
Victoria Beckham – British Style Icon
Victoria Beckham did not have the best start. In her Spice Girls days, her hairstyles were often completely unsuccessful. She had tanning bed burns, oxidized hair, fake breasts and skinny clothes.
When she launched her own fashion label in 2008, the industry was not thrilled. Victoria put a lot of effort into changing her image and her designs. She turned out to have an incredible sense of style and became an icon admired by multitudes of women.
A must-have coat!
The closet of the British style icon is full of coats. Which model does Beckham recommend? First of all, a classic, timeless one, which will perfectly fit any figure, regardless of its size or proportions, and can be combined with dresses, skirts, as well as with pants.
Victoria likes slim-fit coats, but also oversized coats, under which a thick sweater can easily fit.
A decent coat is a considerable expense, but it is worth investing in it, because it will stay with us for many years.
Do not be afraid of midi length
The designer is 163 cm tall, which is completely invisible at first glance. She loves dresses and skirts, and most often we can see her in an unobvious length, i.e. midi – below the knee or to the middle of the calf.
She proves that even shorter women can wear midi dresses if they want and look incredibly chic while doing so. What's the most important thing to remember? High heels!
Use the men's closet
Beckham likes to break the rules of fashion both in private and in business. He likes to play with it and experiment and draw on men's fashion. Shirts, loose-fitting fabric pants and suits are the elements he often uses to create fantastic looks.
She often chooses oversized shirts and blazers, which give her nonchalance and at the same time look elegant and sensual
Less is more
The British star's style is simple and classic with a touch of the aforementioned nonchalance. This is the key to her success.
You do not need a lot of accessories, flashy jewelry, large prints or bright colors to stand out from the crowd and attract attention – in a positive sense. It is better to be frugal rather than overdone.
Make sure to wear sunglasses!
What does Victoria never leave home without? Without her sunglasses. In fact, she almost always has them on, even indoors.
The frames and lenses are usually dark, with a characteristic straight line on top. Thanks to them every outfit looks better, and it's also worth mentioning a purely practical aspect – behind the glasses you can't see your tiredness or sleeplessness.
Stilettos are your best friend
Beckham simply cannot part with his stylish stilettos, even when pregnant or later with a baby in his arms. They accentuate the style, slim and elongate the legs, and make her appear taller than she really is.
Do not be afraid of such shoes – practice makes perfect. It is also good to start with lower heels.
Read also: https://trendloupe.com/style-lessons/10-dress-code-rules-that-apply-at-the-royal-court-some-of-them-may-surprise-you/
Photo by James Devaney/GC Images