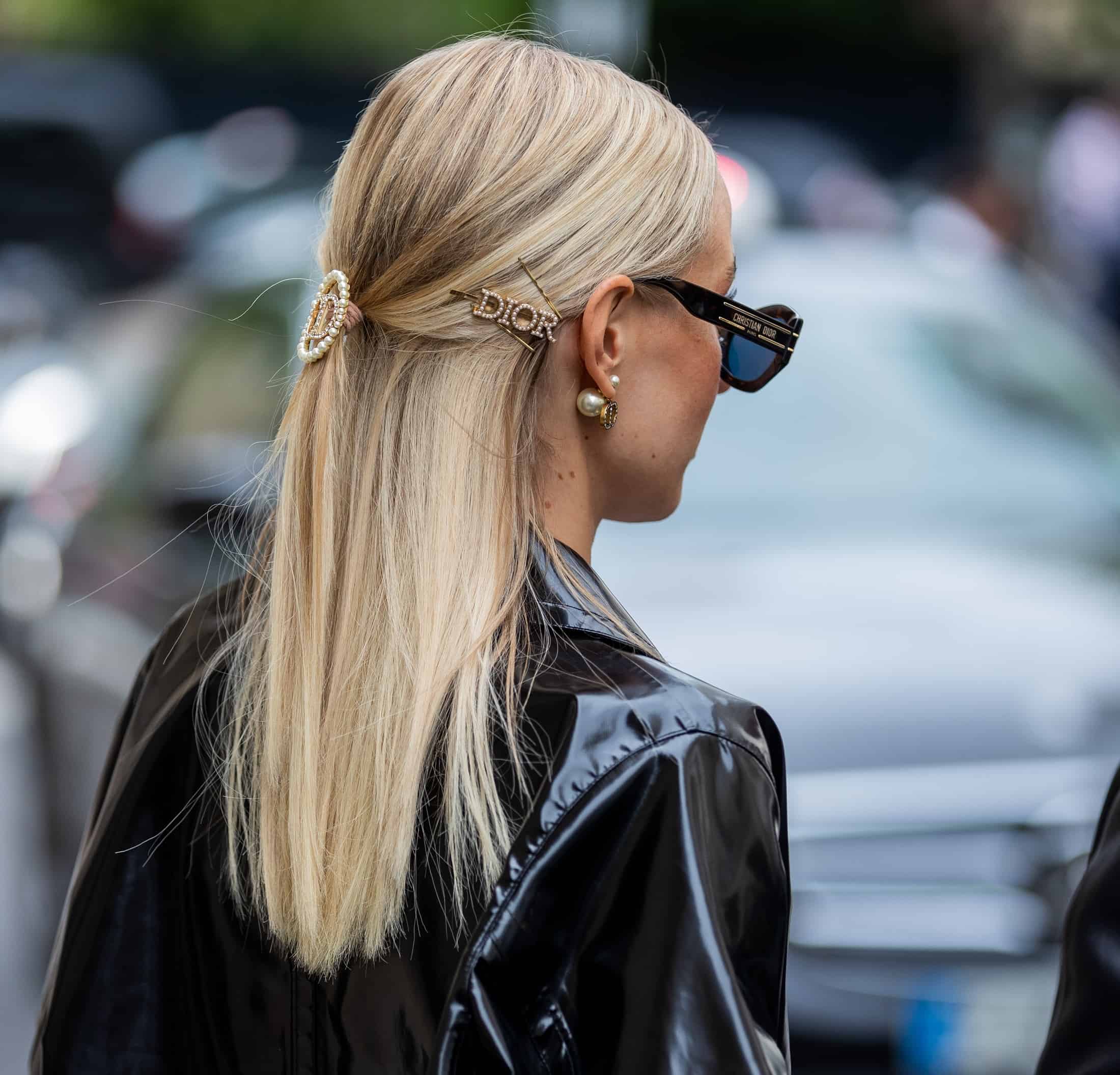 In the summer, many of us escape into loose buns, updos, or complicated braids. But what if you want to wear your hair down but still feel comfortable in the hot weather? Consider our hair style suggestions, which are a great alternative to full updos.
If you have literally seconds to pull something out of your bag, a headband, a hair scarf, some decorative bobby pins or a simple larger clip can be a really useful gadget. You'll change your look significantly and at the same time feel comfortable without strands of hair falling annoyingly in your face.
Here are some of our suggestions:
---
● Half-hair mini chignon
If you're worried about your hair sticking to your face (after all, we're in the middle of a heat wave), combinations with different half updos are a hybrid solution that combines the best of both worlds. A top half bun can give you an extra few inches and will be a respite especially if high volume hair is your forte. It can make things not too heavy if you also have a lot of hair. This hairstyle is quite easy to do, all you need is a hair elastic. The bun doesn't have to be perfect, the messy bun style has a lot more charm.
● The knotted headscarf
This trend came to us from the runways at the beginning of this season. Head-tied scarves are a certain artifact of the past that is making a comeback today in a whole new form. Depending on the color, pattern or material you choose, you can create a unique look in any aesthetic. It goes well with jeans, an elegant dress or any boho outfit. The most popular way to tie it is to wrap it around your head and braid it underneath your hair at the nape of your neck with a section of your fringe left open. A great solution for hot weather. The headscarf replaces a hat or baseball cap, providing protection from the sun's rays and adding style to your look.
● Pigtail hairstyles from the 90s.
The half-up craze was the hallmark of the 90s, and this particular pigtail style is one of the cutest ways to implement hairstyles from the trend. You can opt for loose mini ponytails pinned at the top of your head or wrap them in the form of tiny buns. Both options are cute and very comfortable. Longer bangs can be additionally secured on the side with hair pins.
bangs in the Form of Braids
Braids are a cool, modern and slightly rocker element that looks great when paired with loose hair. Braid them tightly along your head and secure them at the top with hair elastics or bobby pins. Alternatively, you may braid the entire length of your hair and secure it only at the ends. Another option is to braid thin braids in the front and fluff them loosely along your hairline.
● Hair Bands
Hairbands are another accessory that has recently entered women's fashion. Previously usually associated with an item of clothing for little girls or teenage girls, it has now become an elegant gadget for us adult women of all ages as well, adorning our head like a crown. You can choose a more casual option – stylized as a fabric scarf or bet on an ornate headband decorated with pearls and crystals in the glamour version.
● The classic ribbon
Ribbons are one of the first hair decorations, worn by the ladies of the court of old. This classic way of tying up your hair is both very cute and girly. Simply gather a few pieces of hair and tie a ribbon of any thickness and color around them. This look goes well with a dress or jeans. It's a great alternative to an elastic clip or bobby pin.
● The bubble braid – "bubble braid"
This is definitely the braid of the season. It's usually done with whole hair, but there's nothing stopping you from doing just a half updo in this style. Tie a few strands into a ponytail, then secure with an elastic halfway down, then add additional pom-poms at equal intervals between the previous ties. Gently stretch each section with your fingers to create a bubble shape. Done!
● Pearl clips and pins
Another fashionable hair gadget that gives you endless possibilities to pin up the fringe section of your choice. You can pin them in the front, gather the strands at the back of your head, or pin them to the side. Use one pin or several different ones pinned next to each other.
Read also This way to grow and strengthen hair is conquering social media. It's inexpensive and effective – will you try it?
Main photo: Christian Vierig/ Getty Images Entertainment/ Getty Images