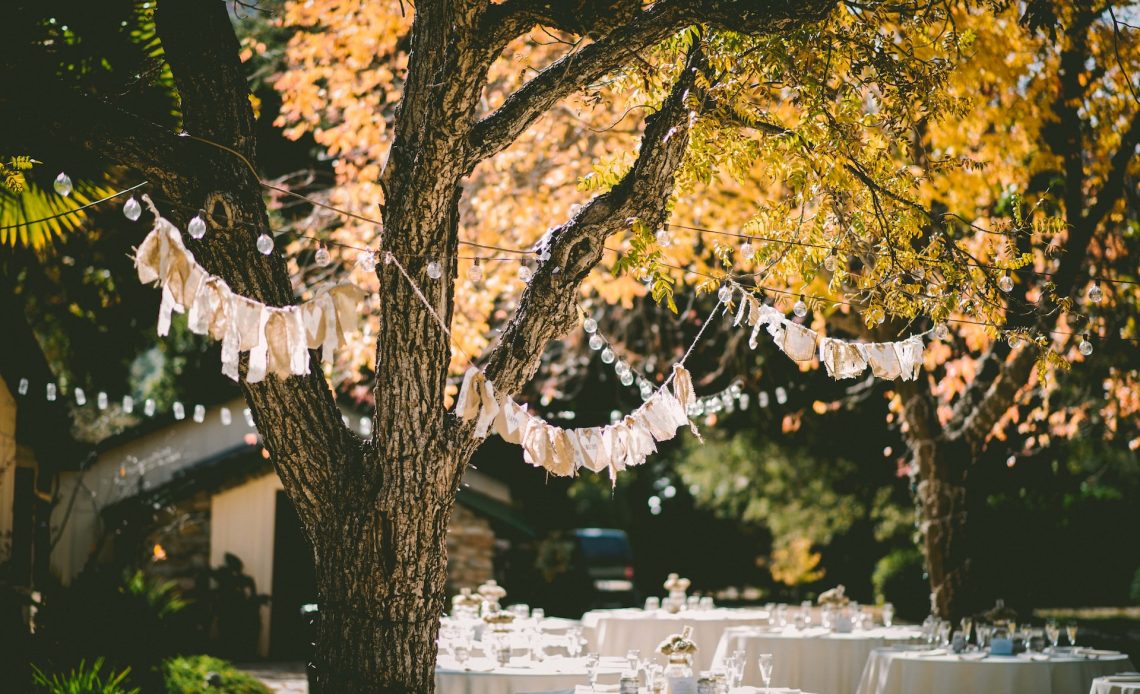 Your wedding day may be one of the most memorable days of your life, but so are the days leading up to it – including your bridal shower! The party should be just as special as your dress and your marriage ceremony.
DIY Wedding Reception Decoration Ideas
Whether you're on a tight budget or just want to put your own personal touch on your wedding reception, there are plenty of ways to save money and still have a beautiful event. DIY decorations are a great way to achieve this. Here are a few ideas to get you started:
Paint the inside of old bottles with acrylic paint and use them as votives for place settings
Buy large quantities of flower petals from a floral shop or farmer's market, fill bowls with them, and set them around the room for an organic look
Use sheer fabric to create backdrops for tables with lights behind them for an elegant look
Put up starburst bunting in any color combination you like as decor around the room
Create DIY ribbon chandeliers by stringing together strips of grosgrain ribbon in different lengths that can be hung above head height
Tips for Planning the Perfect Bridal Shower
When it comes to throwing the perfect bridal shower, the devil is in the details. From the invitations to the decorations to the menu, everything should be planned and executed with precision. Here are five tips to help you:
Whether it's a destination wedding or honeymoon, you'll need to create a color palette that matches your theme and serves as the basis for all of your decorating decisions. Also, there are plenty of custom sites that offer designs and inspiration for every type of bride on every budget.
If this is your first time planning an event like this, then chances are you're not sure what kind of food to serve. The easiest option is to probably go with a pizza or cake! You can also order from your favorite local restaurant if you don't want to prepare everything yourself. Once again, customization is key when it comes to these types of events so feel free to make it your own.
Another important detail is entertainment. It doesn't have to be anything elaborate but music, games and a designated guest book will make for a memorable evening. Don't forget about gifts either; once again, there are many options out there so don't limit yourself to just traditional baskets full of lotions and chocolates.
Before you set up any décor take into account where guests will be sitting while they eat their meals and/or open presents. In other words, keep things neat and tidy around the buffet table area by keeping party favors off of the floor.
Since you're organizing the event, it's important to remember to ask for RSVPs early on so that you know how many people are coming beforehand. These days it's easy enough to set up a Google form or simply email everyone asking them to respond ASAP. Regardless of which method you choose, this will save a lot of stress later on because one less thing has to go wrong. After each guest responds to your RSVP, send a friendly reminder closer to the date reminding them of the specifics and making sure they understand where the party is being held.
On another note, if you do plan on using custom bridal shower decorations, never hesitate to ask questions prior to placing your order. After all, no one wants ugly floral centerpieces with mismatched streamers scattered throughout their living room!
If you're looking for decorations that will really wow your guests, consider customizing your decor to fit the theme of the shower. You can find custom banners, table runners, and even cake toppers that will help make one to remember. With a little creativity, you can easily DIY some unique touches that will really make it stand out. So don't be afraid to get creative – your guests will be sure to appreciate it! Have a look here to get everything you wish. 
main photo: unsplash.com/Ben Rosett