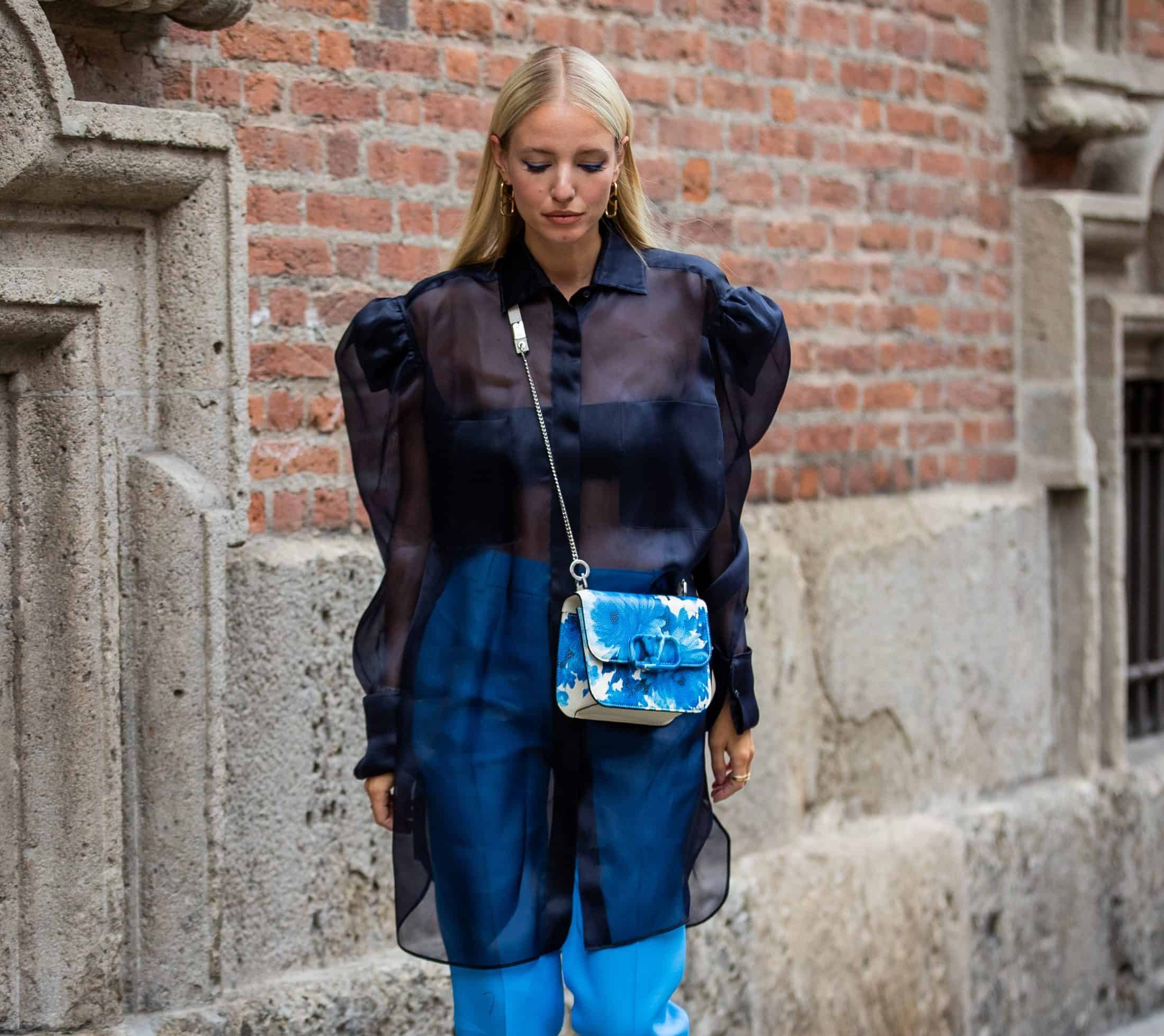 Loose-fitting, airy clothes, which allow your body to breathe freely, work best in summer. Often, however, due to their cut such clothes turn out to be difficult to style. This type of clothing is, among others, tunic – it is neither a blouse, nor a dress. It is not always clear whether to wear it with pants, leggings or tights. Tunics come in many different cuts, lengths and styles, so there's no one right way to style a tunic. Get inspired by our suggestions!
Tunics with pants
There are plenty of styling options for everyday wear. The most basic would be to pair it with pants. On colder days it can be a pair of jeans, during hot summer days nothing stands in the way of matching tunic with shorts or shorts. The best choice is a tunic, not too long, not much longer than a regular blouse. This way you will avoid the effect of wearing a dress with pants, as was the case in the early 2000s. Fortunately, this trend has passed away. If you like the tunic to cover your buttocks, you may choose one with an asymmetrical cut, longer at the back. Then it will not look comical with pants, but will still cover what it should. This outfit will go well with sandals or tennis shoes and big jewelry, like metal bracelets or colorful beads. You may complete the outfit with a small bag on a long strap, which will not only be practical, but also a decoration.
Tunic with leggings
Leggings are a great option for women who like to be comfortable. Some people even refer to them as "tracksuit bottoms," and there is something to that! However, tight leggings can be more of an enemy than an ally. Cheap leggings are often made of thin, low-quality material, which stretches on the body and shows everyone the cut and color of the panties you are currently wearing. To avoid such a mishap, it is good to wear longer tunics to leggings, which in case of a problem will still cover your buttocks. The set of leggings plus tunics for fluffy women is a great, comfortable and hiding minor figure flaws combination. It can be quite an elegant outfit if you bet on a shirt tunic and stiletto heels. You do not have to sacrifice comfort even for elegance. A watch on a metal bracelet or webbing strap and a large plaited bag will go well with this outfit
What to wear with a tunic?
When it gets chilly and you want to wear some kind of bedspread, it is difficult to choose the right kind of bedspread for a tunic. Its loose and quite wide cut and length make neither a hoodie nor a sweater look good with it. So what should you wear to keep warm while wearing a tunic? A good choice is a loose-fitting cardigan, which will create another layer that skims over your figure, instead of hugging your body and crumpling the tunic underneath. Another option is to wear something underneath. A tight top is sure to keep you warm on a chilly evening, without giving away that you're wearing anything more than a beautiful and polished style
A tunic top is a very versatile piece of clothing that gives you a huge range of styling options. It allows you to create both sporty and more elegant outfits. This cut looks great on every type of figure and at every height. Tunics can hide the imperfections of the figure and the outfit itself. This summer, bet on a casual tunic made of natural material, thanks to which you will feel comfortable even in the greatest heat, without giving up the stylish look.
Read also: 7 accessories you need to make even the simplest outfit the trendiest look of the season
Main Photo: Christian Vierig/ Getty Images Entertainment/ Getty Images