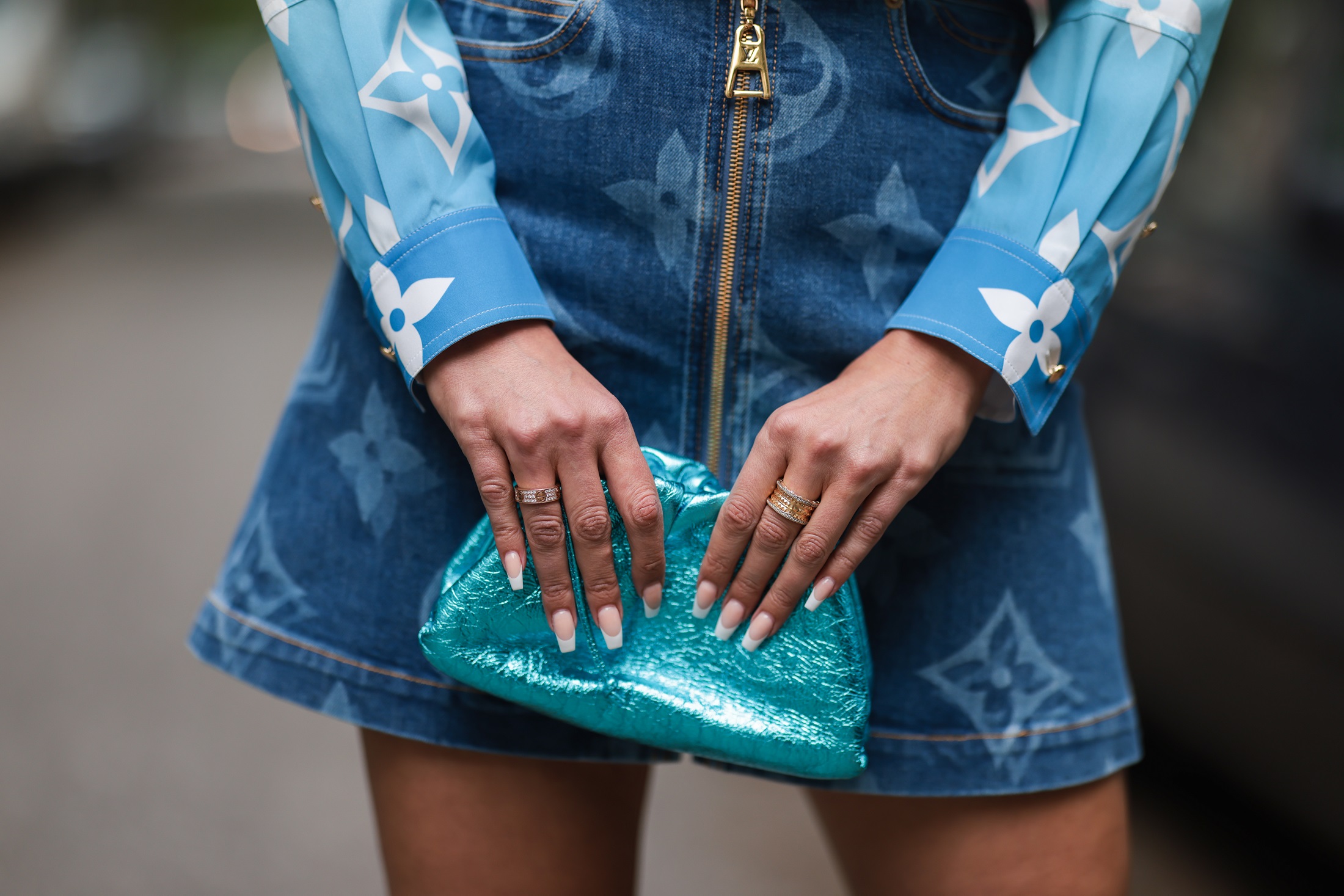 It's no secret that denim skirts are back in style, and this summer the mini versions are the most fashionable! It's a styling element that goes perfectly with everything and everywhere! You can wear them as formal office outfit, for a night out, as well as casual everyday outfit – even to the beach. There are almost endless versions to choose from: torn at the bottom, buttoned at the front, flared, A-line, with crystals or appliqués and many, many more. Below, our editors share a few suggestions on what to wear with your skirt to look trendy this season.
Classic look
A simple white shirt is always a good choice. You can roll up the sleeves and play around with the bottom by tying the ends at the waist or tucking part of the fabric into the skirt and letting the rest of it loose and drape. This way, you can give your outfit a casual, summer vibe and individual style. A white shirt gives you many options, which you can adjust according to the place and occasion. In the picture below, you will find it paired with a small handbag and heeled sandals in this season's trendy square-front cut.
Exposing your belly
Summer is the time when we expose our beautiful body. Crop tops, halter tops, strapless tops tied at the back and short tops ending at the waist are all the rage this season. Pairing a denim skirt with such a top is the perfect choice. You can also wear it directly on top of your swimsuit when going to the beach, as it will look great with a bikini top. Below is a casual urban version with sneakers. Changing shoes in this case is an easy way to change the character of this style.
Denim on denim
Pairing denim with denim will never go out of style. You can bet on the same shade or go crazy with different gradients. Style your outfit with a denim trouser and a shirt in the same fabric. If you match it with a katana, even better? Go wild and go for denim! P.S. Did you know that you can even find shoes in denim shades on the shoe market?
With a t-shirt
Simple combinations are always on trend. Wear a denim skirt with your favorite t-shirt with sandals, sports shoes or sneakers. This outfit is perfect for travel, as an outfit on vacations, as well as for everyday outings. This combination will give you a girly and fresh look, emphasizing your feminine assets. In the evening, throw on a denim jacket, long sweater or a sweatshirt. Each choice is a perfect complement for this outfit.
For a more elegant look
A jacket and satin top, elegant shirt or blouse are enough to give the denim outfit class and change its style. This combination is perfect for the office, a date or an evening out. Opt for a slightly longer jacket with rolled up sleeves in classic black or go wild with color, but stick to solid colors. Match your look with heeled sandals.
For a cooler day
Even in the summer there are rainy, chilly days, especially when the vacations are slowly coming to an end and September appears on the horizon. A denim skirt works well for those days too. You can accessorize it with a sweater and boots or trendy cowboy boots
Read also 6 spring trends that will also be fashionable in autumn
Main photo: Jeremy Moeller/ Getty Images Entertainment/ Getty Images