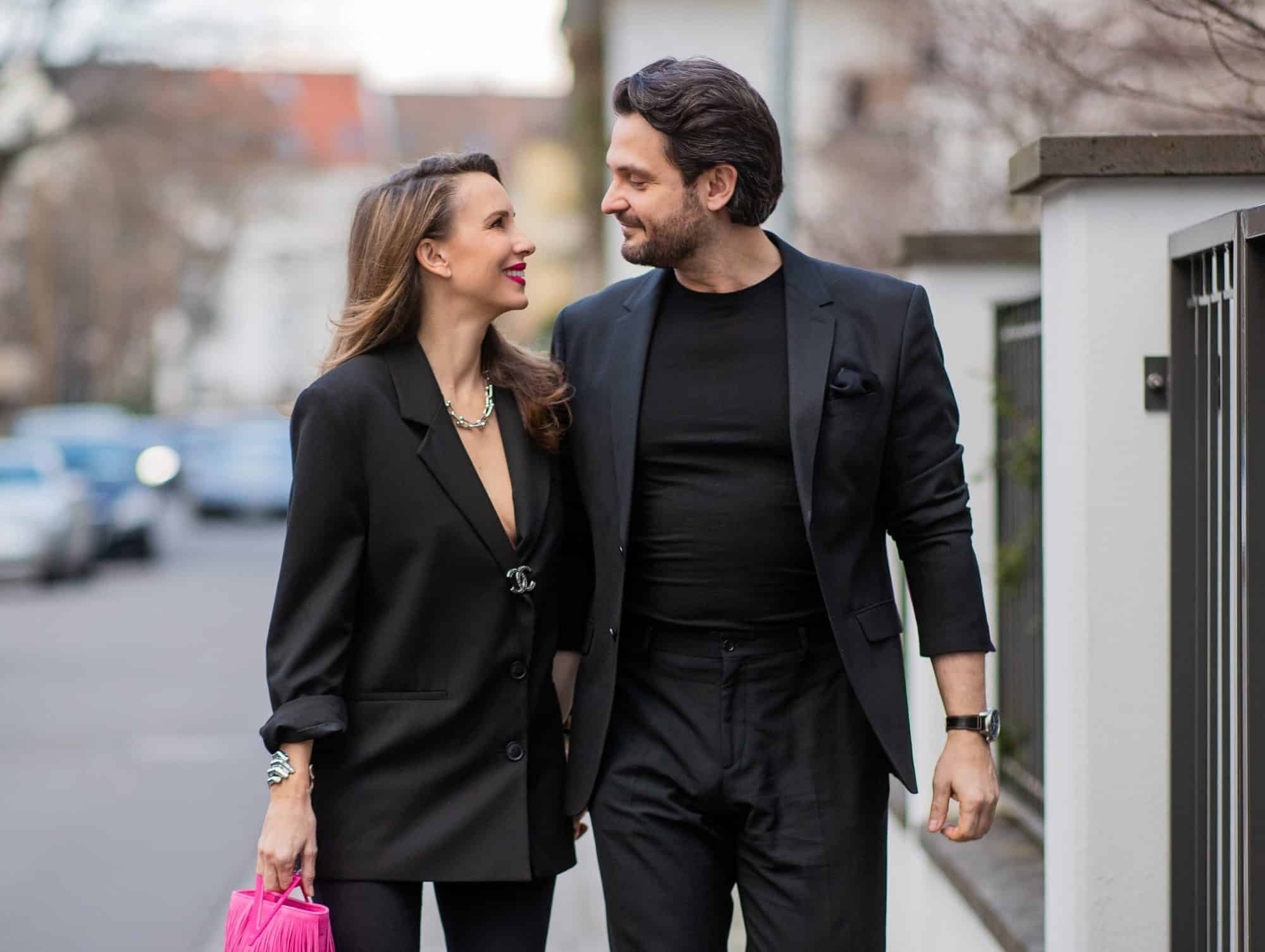 Men's fashion items are a strong trend every now and then on the catwalks of the biggest designers. Oversized jackets, men's shirts or unisex accessories allow you to create an interesting and timeless outfit. If you lack an idea for a new outfit and your boyfriend has a closet full of original clothes, use his resources. It does not matter that some clothes will be too loose, thanks to this the look gains a nonchalant and stylish character. We suggest what parts of the men's closet can be used for everyday styling.
Whether you wear elegant ensembles or go for rebellious, rock-chick outfits, there is always something in your partner's closet that you can use for your outfit. It's not just about borrowing a sporty sweatshirt or sweater on a chilly evening. Men's closet can become a real mine of inspiration and surprising fashion solutions
Which clothes should you steal from your boyfriend?
Men's shirt
Loose shirt is a basis, thanks to which it is possible to create fashionable outfits straight from high fashion. A white or blue men's shirt allows plenty of combinations and combinations with other items of clothing to create a great outfit for work or a date. The simplest, but always effective solution is to wear a shirt with a tight, pencil skirt. It will also look great with jeans, straight pants or leather shorts. It is very fashionable to wear black dresses over simple white shirts, creating an original look, which can be perfectly matched with stilettos or, on the contrary, with heavy boots on thick soles. A large men's shirt, compressed at the waist with a leather belt, can be an interesting alternative to a summer dress
Jacket
Oversized jackets have been fashionable for a few seasons now. Very often we can see people inspired by Scandinavian trends and fashion wearing them. A jacket taken out of your guy's closet is perfect for chic and versatile styles. This season it is very fashionable to combine loose jackets with straight, wide-legged pants. Ideally, the top and bottom should be in similar shades for a stylish suit look
Leather jacket
A great choice that you can confidently borrow from your boyfriend is a leather jacket. This type of garment looks fantastic even if the jacket is a size XL and you wear S or M every day. A voluminous leather jacket paired with heavy boots can be the basis for many outfits. It is perfect for concerts, music festivals or even as a part of casual outfit
Sporty sweatshirt
Sportswear elements are more and more often used in everyday outfits. A stylish sweatshirt can be a great addition on a cold day. If you do not have your own piece yet, you can successfully borrow one from your guy's closet. Combined with jeans shorts or a simple skirt they can make an original combination. Hoodie is no longer only an outfit which we wear to the gym or for a walk. In combination with interesting accessories it can be a perfect outfit for many girls
Watch
You can borrow not only clothes but also accessories from your man. An interesting element of styling can be a man's watch on a leather strap or a thick bracelet. A large watch face will attract attention. It will work well as an addition to an outfit for work or a date. Apart from boyfriend watches, you can borrow a belt, hats or baseball caps. All these accessories are unisex, so they will work well in both men's and women's styling. However, it's worth to keep it in moderation and for the sake of balance wear an element emphasizing your feminine side. It may be high heels, a sensual scarf or lips underlined with red lipstick
Do you want to see how this kind of borrowing looks like in practice? Just see how Annabelle Fleur, one of the leading it-girls, does it.
Read also Wedding dress? Well, thanks. Suit? Yes, please.
Main image: photo by Christian Vierig/ Getty Images Entertainment/ Getty Images