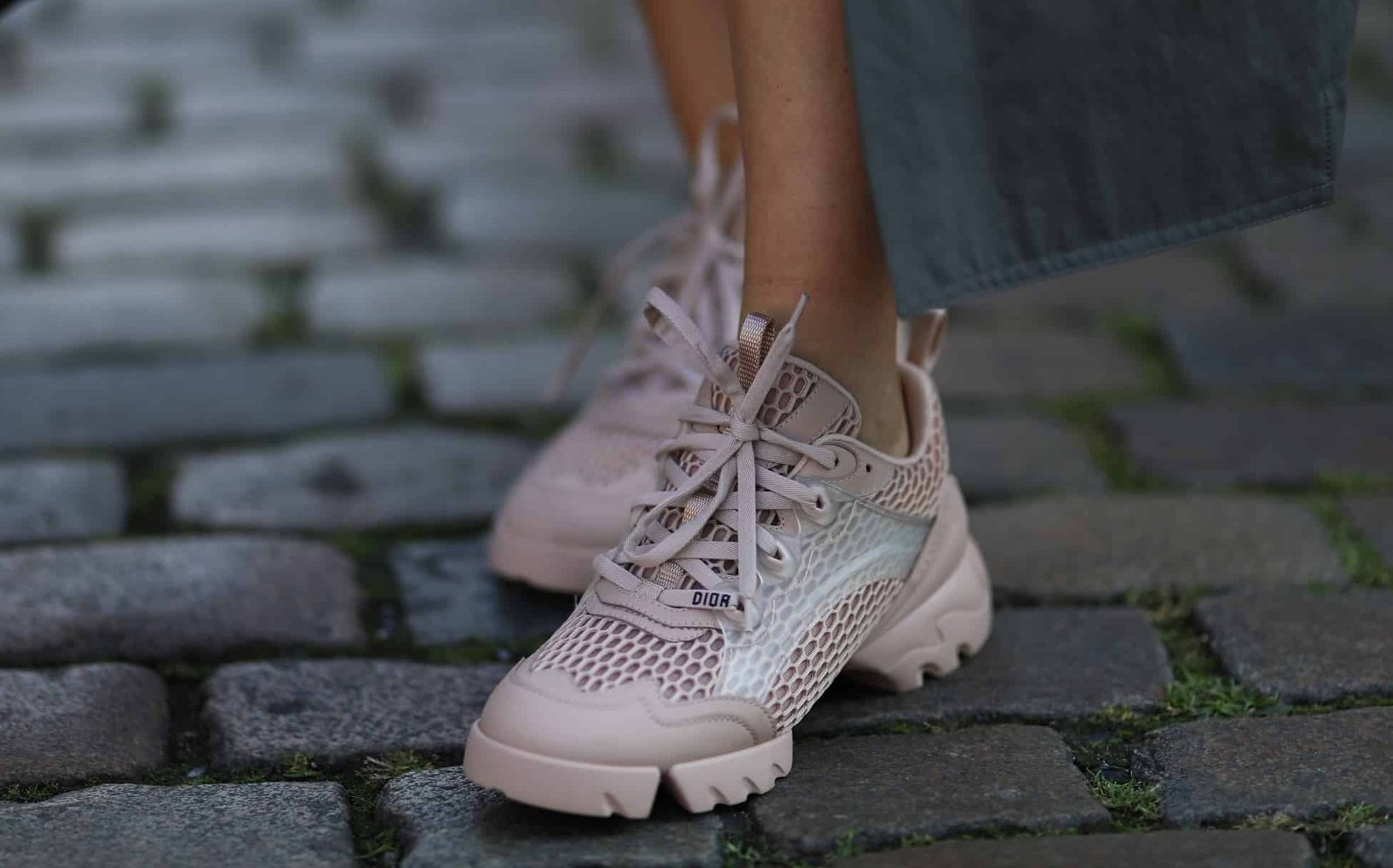 Sneakers, sneakers, sneakers – still fashionable and fitting to many outfits. We suggest what they go best with this season.
Spring is the time when you can go a bit crazy with combining different parts of your outfit. This season you can bet on both classic solutions and sport shoes matched with elegant skirts. Famous designers have replaced stilettos with sneakers, and the trendy Balanciaga shoes are becoming increasingly popular.
Sporty Elegance
Jacket, fabric pants and sneakers? Of course! This combination is a great idea for an office outfit. On the one hand, you look chic, on the other hand, you look casual and original. White sports shoes will look great when matched with a navy blue outfit or floral patterned pants. You can also combine sneakers with a cocktail blouse and black pants – a formal outfit will gain some lightness in this combination. Another interesting and trendy solution is to wear sneakers with overalls. If you match them in color, these shoes can successfully replace stiletto heels.
Always fashionable jeans
Denim pants are the hallmark of urban fashion. They are versatile, you can wear them for many different occasions and you can easily match them with blouses and shoes. Go for pastel colors of shoes – mint, blue or powder pink. Jeans will also go well with sports shoes in colors like black or red. In summer it is worth to match jeans shorts with bright sneakers or sneakers in bright colors – this combination will make you look girly and fashionable. If you want to make your outfit more subtle, choose slip-on sneakers. In case you want to emphasize your style, opt for shoes with a bold color and high sole.
Flowy dresses and classic skirts
As in previous seasons, it is fashionable to combine a floral dress with colorful sports shoes. For example, blue dC shoes can be worn with a white dress. Classic sneakers will look best if you wear them with a printed outfit. Skirts are another clothing item that goes well with sports shoes. This is especially true for ankle-length skirts, but you can also wear sneakers with pencil skirts or sporty skirts. It is important to choose the color of your shoes so that they match your outfit and do not overshadow it
Opt for minimalism!
Even though spring is the time when floral ornaments reign in fashion, you can also choose classic solutions that are still in vogue. White shirt, black slacks and classic sneakers – you can wear this outfit to the office or to a meeting with friends.
Back to the 90s.
Inspiration from the 90s returns in almost every field. Fashion is no exception. On the streets you can often see women wearing light dresses and sporty shoes in flashy colors, the so-called dad shoes
Comfortable leggings
This type of pants is often worn on a daily basis. They are comfortable and, if they are well-fitted, they emphasize the silhouette. You can also wear sports shoes with them. A good idea is to put on a printed T-shirt (or a hoodie), black leggings and white sneakers or colorful sneakers
This season don't be afraid to combine elegance with sports clothes. You will feel comfortable and look fashionable. You can break classic outfits with shoes with patterns, and more flashy ones – with shoes in subdued colors.
See a handful of inspirations straight from Instagram:
Read also: From the men's closet, or we suggest which items of clothing you can borrow from your boyfriend
Main photo: Jeremy Moeller/ Getty Images Entertainment/ Getty Images