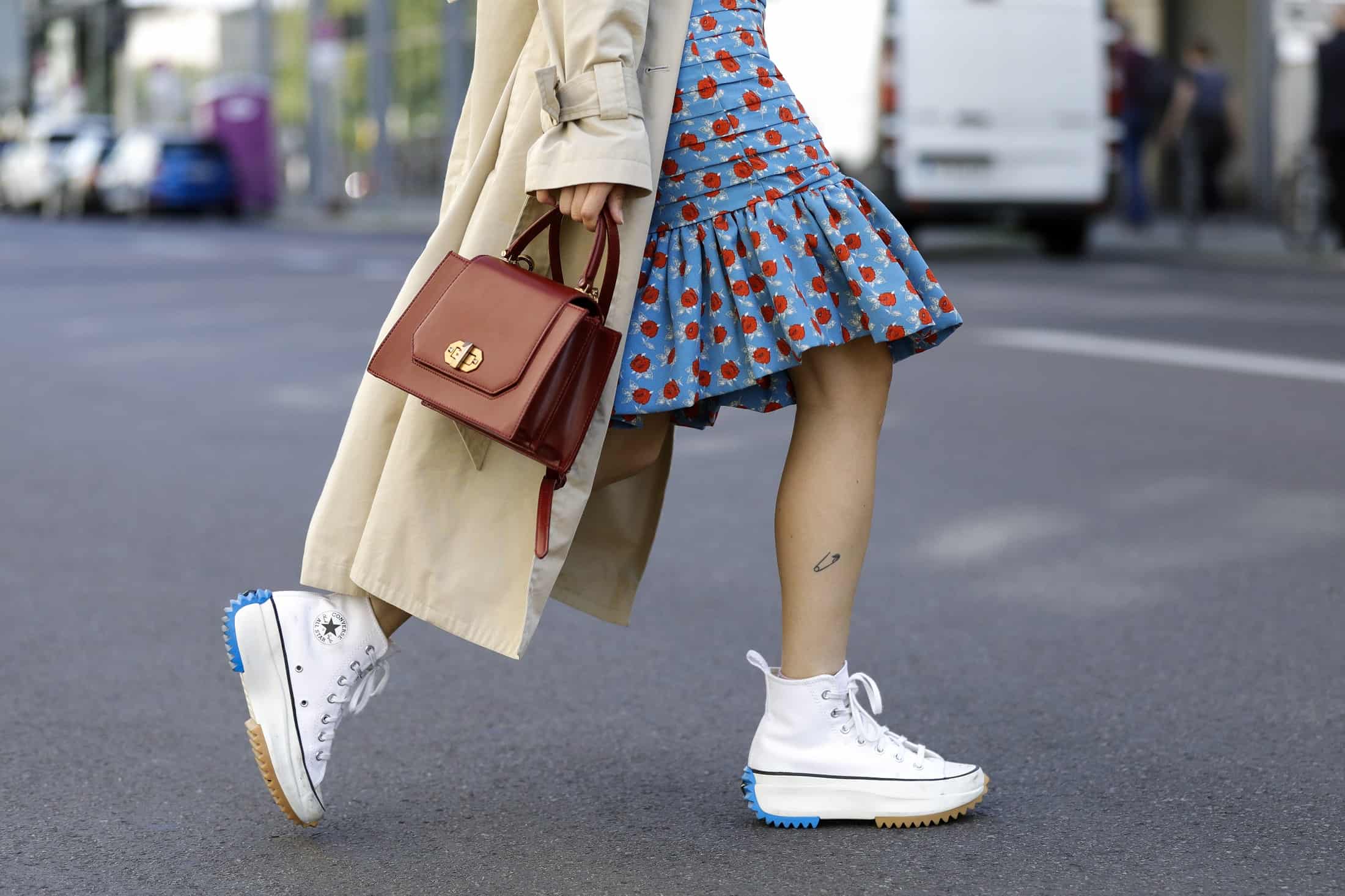 Sandals are not the only type of footwear that goes with a summer dress. Sneakers will be a great alternative in this case, plus they fit in with the current trends. They're a great choice for busy weekends, traveling on different modes of transportation on a hot day, and off-road excursions. Don't be afraid to mix and match! Celebrities love such unconventional outfits and look great in them. One of the main proponents of this particular combination is Emily Ratajkowski. For many seasons the American model has been a fan of combining white shoes with leg-skimming mini dresses. Admittedly, she has become a true master of adding a sporty touch to an otherwise sexy outfit.
When it comes to specific looks, there are endless combinations to choose from. It's up to you. Play with opposites by pairing chunky retro sneakers with a flirty, tight dress. Or you can take it to the next level and combine sleek leather shoes with a trendy midi. Another trick that adds a thoughtful chic touch is color matching, for example, pairing navy blue sneakers with a dress that contains similar shades. Pairing with white shoes is also very popular, because of their versatility, you can wear any dress with them. Whatever style you choose, your feet will thank you for the comfort you guarantee them, and you will feel fashionable, feminine and stylish.
See how the stars wear them and find your perfect combination of summer dress and sneakers.
Emily Ratajkowski – a true master of combining dresses with sports shoes and a fan of this style (she completes every outfit with a matching bag)

in a white boho dress and white sneakers
in a fitted black dress with flared bottom and her favourite sneakers
in an elegant jacket dress and white sports shoes
in a sporty mini version
Zendaya in a long strapless dress with athletic shoes
Kourtney Kardashian and Kendall Jenner in elegant satin dresses, but no stilettos 😉
Kaia Gerber in a long blue floral dress and sneakers in matching blue and navy shades
Alexa Chung in a floral dress and black ankle-length sneakers
Emma Roberts in a retro dress and classic sneakers
Read also: Boots and boots in the summer? We're all for it! We suggest how to wear them to look fashionable and stylish
Main Photo: Streetstyleshooters/ German Select/ Getty Images