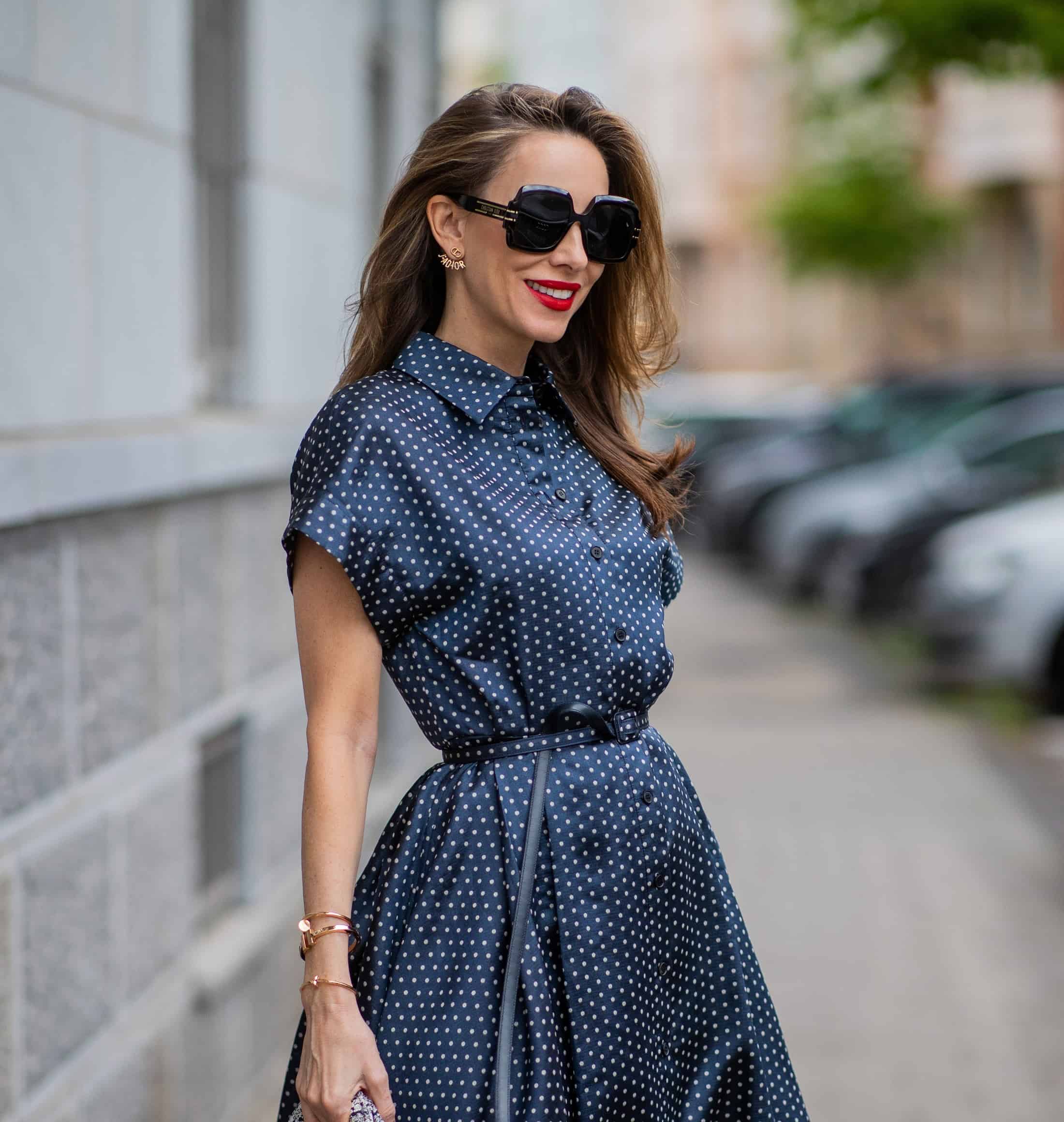 Summer means warm weather and changes in your daily closet. If you work in an office, you know that dress code is a must, but there is no sense in getting tired unnecessarily in unbreathable fabrics or long pants. You can look smart in summer colors and cuts, too. Here are our four suggestions to suit every woman.
Dresses with buffets
Although they were most popular in the crazy eighties, dresses with buffets are still a great option today. The trend is back and making its way into the closets of stylish women, perfectly matching the fashion hits of the 21st century, such as ugly shoes or the controversial combination of socks and sandals. Wondering if such a cut of the dress will suit you too? Buffs are an expressive element of the outfit, that is why women who are confident and not afraid to stand out from the crowd will feel great wearing them. You do not have to be afraid that they will overwhelm your styling. There are, however, several issues to pay attention to when deciding on such a cut. First of all, women with larger breasts need to keep in mind that the distinctive cut of the dress will make it particularly stand out. This can be particularly troublesome in the case of an outfit for work. For such ladies, we recommend looser models, perhaps even a size larger than the one you usually wear. It can be just as troublesome to choose a dress with buffets for women with broad shoulders. If you don't want them to be particularly conspicuous, opt for styles with smaller buffets or ones below the shoulder.
Pencil dresses
Don't listen to people who say that pencil dresses are only suitable for tall women with slim figures. No matter what your height or weight, you can feel beautiful and feminine in a pencil dress. Don't focus on what you don't like about yourself. By opting for a timeless cut, you will be able to highlight your assets while still looking completely professional Ladies' dresses the topic of pencil skirts for work is a river, and although pencil skirts seem like a cliché or just plain boring, don't be fooled. The fact that they are so simple only works in their favor. You can easily match them with accessories that will make them look totally different and unique every time. When it comes to pencil dresses, all it often takes is an interesting belt or a handbag with an interesting pattern and the look becomes one of a kind. In addition, they go well with stilettos or ballerinas, as well as with sneakers or, recently, popular ugly shoes.
Shirt dresses
Think shirt dresses are definitely perfect for summer, but not elegant enough for the office? It depends on what you decide on! Just browse a few online stores and you'll see that shirt dresses can be feminine, comfortable and stylish at the same time… Which means they're perfect for summer, when you've got eight hours at the office! You will find both models with elegant floral patterns and those that are more like a linen shirt. With a button-up top and cuffs, you'll look just as elegant as you do in a shirt, but the loose-fitting bottom means you won't drown in the summer heat when you get home
Jacket dresses
You could say that shirt dresses and jacket dresses are very similar. Imagine a jacket, but longer and more fitted – here's your new summer dress, perfect for the office. Thanks to its chic cut, it will easily fit into the work dress code, but also into the summer weather. You will easily find sleeveless models or those with interesting frilled sleeve ends. What is equally important, thanks to the similarity to a jacket… You can find models with pockets! And this is undoubtedly something that every woman dreams of when it comes to her dress.
Read also: Have you been chosen as a bridesmaid? We have some tips for you
Main photo: Christian Vierig/ Getty Images Entertainment/ Getty Images