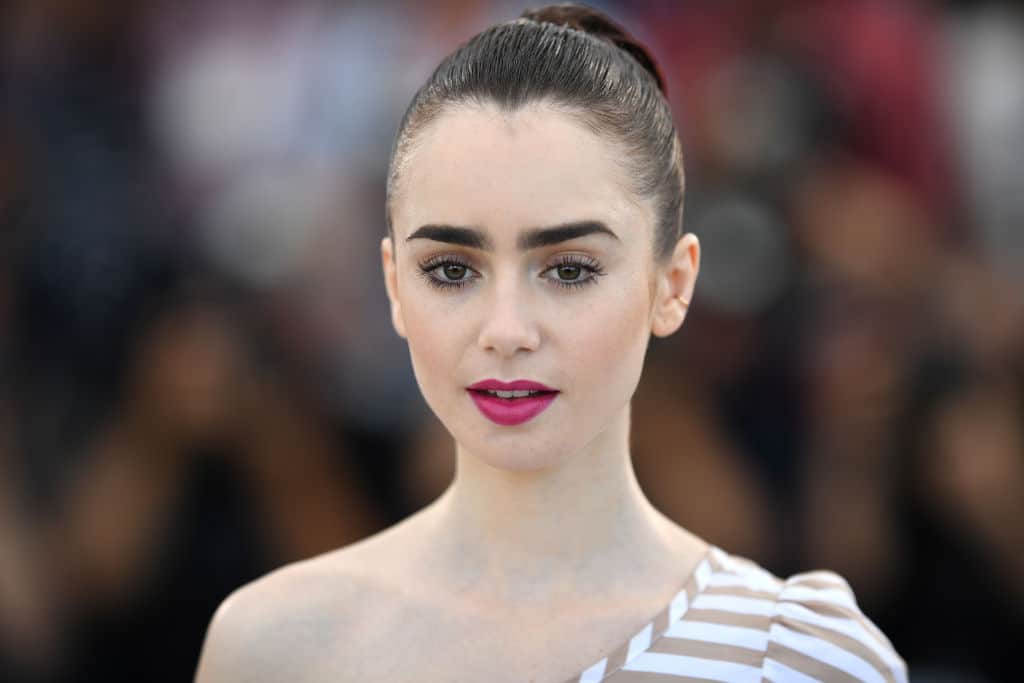 "Emily in Paris" is an American series about a young and ambitious manager – Emily – from Chicago, who gets her dream job in Paris. The girl moves to the capital of France and begins a life full of new acquaintances and romance. As she takes up residence in the fashion capital of the world, we are thrilled to see her original stylings and get inspired by them.
Style Lessons with Emily Cooper
Netflix's new series "Emily in Paris" is billed as a modern day version of the years old hit, "Sex in the City". The character of Emily is played by the girly and charming Lily Collins, who presents herself in brilliant styles against the background of romantic Paris. How do we see her dressed? Here are some Emily's outfits that will make your heart beat faster!
There is more to wearing strong colors than just summer!
Emily Cooper loves bright and bold colors and prints. She gained even more fans when she appeared in a stunning, luscious pink coat. It has a simple cut, reaches past the knees, and its color will be a great choice for all optimists and girls who love life. Many online clothing stores have introduced coats in this shade to their assortment. There is really something to choose from! Although coat is elegant, in modern fashion you can easily match it with sporty outfits, such as light boots or even sneakers. A solid shade of the coat will also look good when paired with patterned pants, for example.
Headwear? + 100 to style
Our next style hit, which was inspired by the character played by Lily Collins, was a green pastel 60s style coat! It was elegantly finished with decorative buttons and collar. Women went crazy for it! And the best proof of this is that immediately after the broadcast of the first episodes of the series, online you could already come across replicas of the beautiful pastel Chanel coat in vintage style. Such coat looks great with checkered retro princes, boots or boots. You can also add a patterned scarf and the must have of the coming season – a fisherman's hat! Hats are back in style! Hats give many hairstyles a new flair. You can look classy in a low-cut dress and have a wow effect with a hat! Parisians are known for their love of this look. Thanks to the Netflix series, the headwear trend has come back like a boomerang.
Mixing different prints and styles doesn't have a random effect at all!
Emily knows what it means to play with fashion. The American showed us how to break some rules and that what's too much… is fashionable! If you want to create a look as fashionable as hers, don't be afraid to combine different types of checks, peas and stripes. To avoid building a chaotic look, stick to one color scheme
A little black is always a good thing
This is something for fans of Parisian class and elegance, but not only. The black evening dress beautifully exposes slender shoulders. Additionally, it has a well-defined waistline and a flared skirt. Do you want to shine like Emily of Paris at the big event? Wear a black evening dress whose cut is reminiscent of designs by the great Christian Dior from the New Look period of 1947. The lovely Lily Collins looks fabulous in her black evening gown against the backdrop of Paris. No wonder she has inspired many women with her style! Such a dress is a masterpiece and every woman will look like a lady in it! Black dresses have been passing the test of high five for centuries! Also, remember that a classic little black dress is always a good option!
Handbag and shoes in the same shade? It's a thing of the past
Parisian fashion is luxurious, but it's also innovative. Collins wowed in the show by pairing a patterned, colorful, and puffy vintage-style sweater with intense yellow wellies! This style is just right for cooler autumn days and is perfect for a bike ride. Sweaters like this one were dominant in the 80s and now they are back in style again. You can find them in collections of famous brands and they are also sold in chain stores. She also shows that combining accessories in the same color is a thing of the past! Have you ever been a fan of matching your shoes to your handbag or vice versa? Stop doing that and go for a variety of colors and you will see that you will impress everyone around you!
Read also: Netflix viewers watch the most "Queen's Gambit," and we look at Beth's best looks
Main photo: Pascal Le Segretain / Staff/ Getty Images Entertai/ Getty Imagesnment